Camping under water
Saterday 31 October 2015, Hi there! I am Fleur van Duyl of the Royal Netherlands Institute for Sea Research on Texel. I organized and coordinated the second week of the 2 week expedition to the Saba Bank 2015. With a group of 14 scientists of NIOZ, IMARES, Naturalis and volunteers (thank you so much) and the professional and friendly crew supporting us we had the challenging task to do high tech research on the Saba Bank. Fancy equipment was launched from the Caribbean Explorer II liveaboard followed by a bunch of brave divers and crew. Conditions on the Saba Bank range from dead calm to hurricane conditions. We hit almost dead calm for a short period followed by increasing oceanic swell. Imagine you are tossed back and forth over the sharp calcareous reef bottom and try to take your underwater samples at 15-20m depth or get heavy equipment down to do it for you, or put up a tent. Yes, it is fun and hard! Nobody has been doing this in such a setting before as far as we know.
The aim of this week is to find out if the Saba Bank, a gigantic 2200 km2 atoll next to Saba, is net growing or eroding. Climate change causes the oceans to warm up and to acidify.This affects corals , coralline algae and other calcifying organism that produce calcium carbonate. And eutrophication adds to that. The corals are also exposed to coral-eroding organisms such as parrotfish or sea urchins. These graze for tasty algae or dig holes and grind away the calcium carbonate. Sponges excavating the corals are very common here as well and might play a large role in the breakdown and dissolution of calcium carbonate. To test whether the reef grows or erodes, we set up an experiment on the seafloor, in which a small part of the reef is enclosed by a tent and monitored accurately.
We had to leave our underwater camp site on the Saba Bank because of increasing swell (with the danger of damaging equipment) and wind speed and we headed for a more protected site in the shade of the only active volcano of the Netherlands (Dutch Caribbean), Mount Scenery on Saba. When you stick your hand in the sand underwater you might feel the heat coming out (interesting underwater temperature profiles..). We put up our underwater campsite at about 20 m depth. Nurse sharks did not really bother our presence and activities. They liked the underwater lights of the divers for chasing prey (happily not us). Turtles now and then inspected the site. We kept the tents and other equipment in for several days and hope for a smashingly exciting data set. We are now on our way back to St Maarten and I am deeply relieved that we came all out safe and healthy. See us next time Saba Bank!!!
Underneath more blogs about Expedition Saba Bank 2015. The stories are labeled on name of author, date and numbered from 2 - 9. Press the yellow name button below or the yellow number button on the right to get there.
EXPEDITION SABA BANK II
OCT - NOV 2015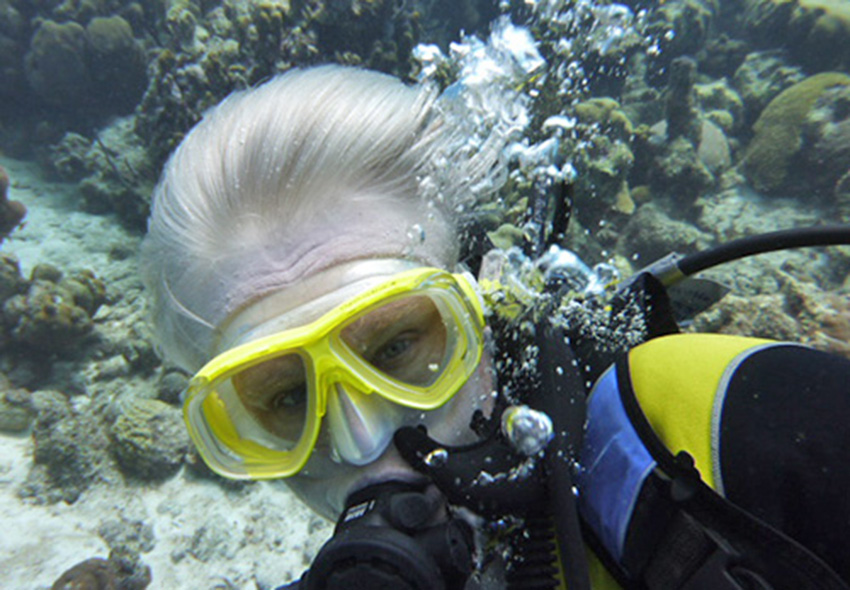 FLEUR van DUYL
ROYAL NETHERLANDS INSTUTE OF SEA RESEARCH
More of expedition Saba Bank